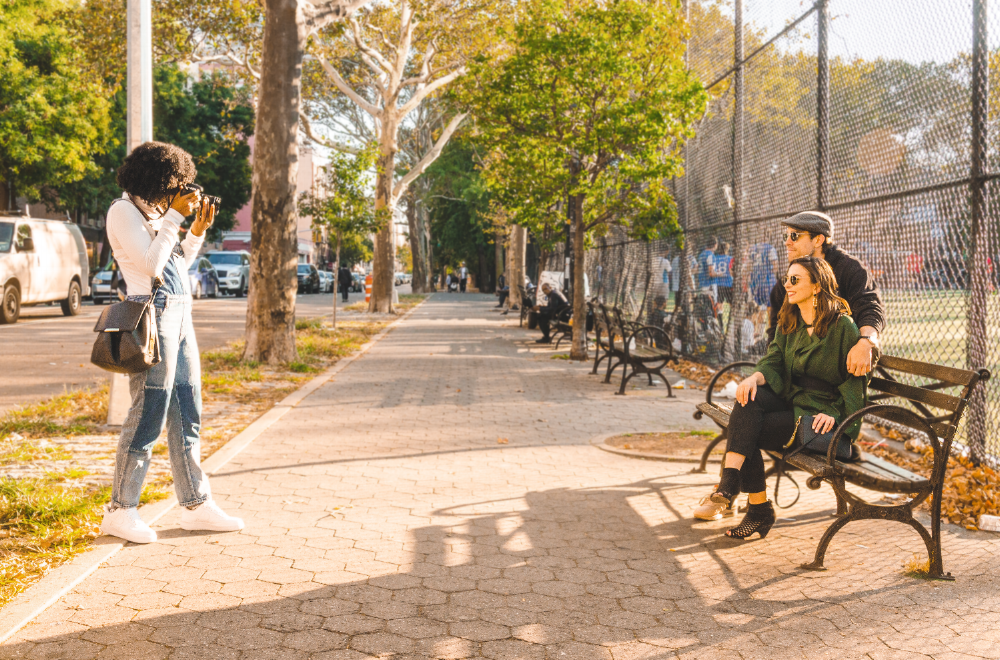 A LITTLE BIT ABOUT US
Here's our story.
Our internet personas are the faces that we present to the world. Why would we muddy up our personal brands with poorly shot pictures and blurry photographs? Founded by a couple who couldn't take a good photo to save their lives, they started a company to solve this (21st Century) problem.
Project: Pose is a democratic way to get the highest quality photos to share online. With our fixed and competitive fees and a network of talented photographers, everyone can afford to have a professional shoot a beautiful image of their urban adventures to share far and wide.
This service is perfect for spicing up your Instagram page, snapping your engagement photographs, Tinder or Hinge pictures, LinkedIn profile pictures, Christmas cards, birthdays, prom or anything else you need a high quality photo for (on a budget).
Project: Pose offers photographers of varied experience a unique chance to develop their skills, to build out their portfolio, and make some side cash while they are at it. Interested? Send us your info.
We want to stay in constant communication with real users to give you exactly what you want out of the company. Don't be shy; send us an email.
a modern service
Inspired by real life.
Do It For The Gram
What has typically been reserved for fashion bloggers, Project: Pose is a democratic way to get the highest quality photos to share online, shot by a professional photographer in a beautiful setting. Try it, and watch the 'likes' roll in.
Be Better Than The Selfie
Let's be honest...no one looks good in a selfie. With Project: Pose, our talented network of photographers will capture you in the perfect setting and perfect pose. We believe that everyone deserves the confidence that a good photo can bring.
Feeding your Feed
Spare your friends from 'liking' another self-shot pic or blurry photograph. Let us take them for you in the coolest and most photogenic locations in New York City. Your pals will thank you.
Reclaim your nights out
By booking your Project: Pose shoot before a night on the town, you never have to fear the dreaded "tagged pic" that you never approved. After each Project: Pose shoot, we provide you with a large selection of photos for you and your friends to post.
Trust us, we're you
We're all looking to create content and curate our personal brands on the internet. Founded by a couple who never likes their self-shot photographs, the idea for Project: Pose came from trying to solve a personal problem.